INTERNATIONAL JOURNAL OF NEW ECONOMICS AND SOCIAL SCIENCES  /  (IJONESS)
Aktualne numery drukowane:
No 1(7)2018_IJONESS
No 2(6)2017_IJONESS
No 1(5)2017 IJONESS
Wersja elektroniczna czasopisma:  www.ijoness.com      /     Archiwum:  https://ijoness.com/resources/html/archives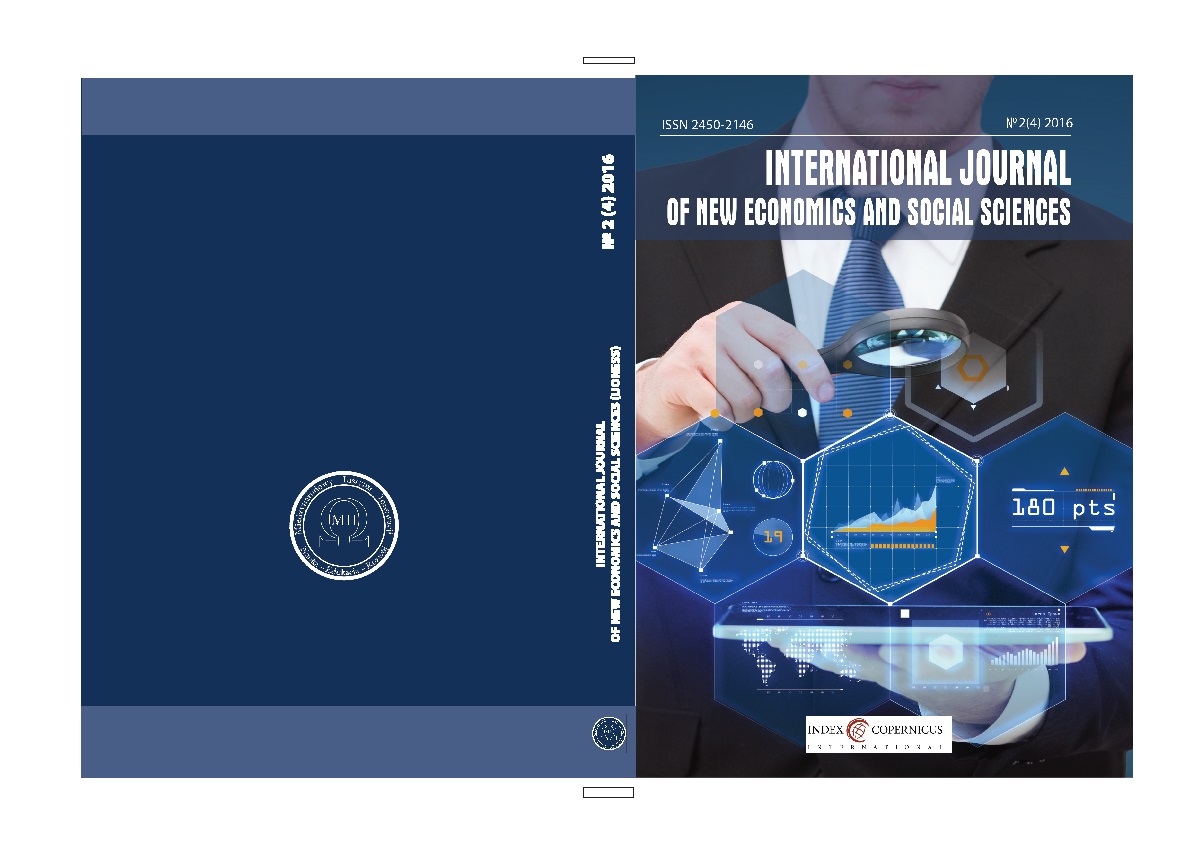 Czasopismo naukowe pt. INTERNATIONAL JOURNAL OF NEW ECONOMICS AND SOCIAL SCIENCES (IJONESS) powstało w 2015 r. ISSN 2450-2146 dla wersji drukowanej
e-ISSN 2451-1064 dla wersji online. IJONESS to międzynarodowe czasopismo naukowe poświęcone naukom społecznym i ekonomii. Podzielone jest na 6 działów:    Ekonomia, Finanse i Zarządzanie;   Zarządzanie Bezpieczeństwem i Ekologią;    Stosunki Międzynarodowe, Studia Regionalne i Polityka;    Prawo i Administracja;    Psychologia, Socjologia i Pedagogika i Edukacja    oraz    Raporty i Opinie.
Zespół redakcyjny i naukowy składa się z przedstawicieli m.in. takich międzynarodowych jednostek naukowych jak:
1. Jacob of Paradies University in Gorzow Wielkopolski
2. Lazarski University in Warsaw
3. University of Wroclaw
4. University of Bialystok
5. Cardinal Stefan Wyszynski University
6. Abat Oliba University (Barcelona) Spain
7. Paata Gugushvili Institute of Economics of Ivane Javakhishvili Tbilisi State University (Tbilisi) Georgia
8. Free University (Warna) Bulgaria.
9. Comenius University (Bratislava) Slovakia.
10. University of Security Management (Kosice) Slovakia
11. Alexandru Ioan Cuza University of Lasi, Romania
12. University of Toronto (Toronto) Canada
13. Hacettepe University (Ankara) Turkey.
14. Medicine American University of Integrative Sciences in Sint Maarten, United States.
15. Lviv Polytechnic National University, Ukraine.
16. Vasyl Stus Donetsk National University, Ukraine.
Obecnie nasze czasopismo IJONESS jest indeksowane w bazach międzynarodowych m.in.: 

ICI Journals Master List;    PBN/POL-Index;    CEEOL;    CEJSH;    ARIANTA;    CEON;    WorldCat;
Dimensions;        WZB Berlin Social Science Centre;      Library Hamburg/University Hamburg;
German National Library of Science and Technology;
Universitätsbibliothek Vechta;        Universitätsbibliothek Leipzig;        Institute of Science and Technology Austria;   
Leuphana Universität Lüneburg;       ZB MED – Informationszentrum Lebenswissenschaften;  Universitätsbibliothek Rostock;
Universitätsbibliothek Braunschweig;   Elektronische Zeitschriftenbibliothek;

© Copyright by International Institute of Innovation «Science-Education-Development» in Warsaw

IJONESS to czasopismo Open Access

.
Wszystkie opublikowane artykuły są rozpowszechniane na warunkach licencji Creative Commons Uznanie autorstwa – Użycie niekomercyjne – Na tych samych warunkach 4.0 (CC BY-NC 4.0) http://creativecommons.org/licenses/by-nc/4.0/, dzięki czemu osoby trzecie, mogą kopiować i rozpowszechniać materiał na dowolnym nośniku lub w formacie oraz czerpać z materiału – pod warunkiem, że oryginalne dzieło jest prawidłowo cytowane i zachowuje warunki licencji. 

Kontakt:                        kontakt@instytutinnowacji.edu.pl 
Kontakt:                        ijoness.mii@gmail.com
Kontakt:                        +48 600 152 494
Kontakt do Redaktora: sylwiagwozdziewicz@gmail.com
Editorial Board: 
Editor-in-Chief  –  PhD (legal science), Sylwia Gwoździewicz – The Jacob of Paradies University in Gorzow Wielkopolski (Gorzów Wielkopolski) Poland / ID SCOPUS ORCID: https://orcid.org/0000-0003-3034-2880
First Deputy Scientific Editor – PhD (political science, economics science), Martin Dahl –  Dean, Faculty of Economics and Management Lazarski University (Warsaw) Poland / ID SCOPUS ORCID: https://orcid.org/0000-0003-1978-7045
Second Deputy Scientific Editor – Dr hab. professor Jan Maciejewski – University of Wroclaw (Wroclaw) Poland.
Subject Editor – Dr hab. (economic science), professor Tomasz Wołowiec – Head of the Department of Finance and Accounting, University of Economy and Innovation in Lublin (Lublin) Poland. / ID SCOPUS ORCID: https://orcid.org/0000-0002-7688-4231
Subject Editor – Dr hab. (economic sciences), professor Pavlo Ilchuk – Head of Technology Management Department of Lviv Polytechnic National University (Lviv) Ukraine. / ID SCOPUS ORCID: https://orcid.org/0000-0003-4636-2309
Subject Editor – PhD (legal sciences), doctor Wacław Brzęk –  Institute of Social Sciences, University of Entrepreneurship in Warsaw (Poland) / ID SCOPUS ORCID: https://orcid.org/0000-0002-8655-8958
Subject Editor – PhD (economic sciences), doctor Dariusz Prokopowicz – Institute of Sociology, Faculty of History and Social Sciences, Cardinal Stefan Wyszynski University in Warsaw (Warsaw) Poland. / ID SCOPUS ORCID: https://orcid.org/0000-0001-6383-916X
Subject Editor –  PhD (social sciences), doctor Marcin Mielnik – Polish Society for the History of Technology (Warsaw) Poland. / ID SCOPUS ORCID:https://orcid.org/0000-0002-4245-986X
Language Editor – PhD (social sciences), doctor Kateryna Novikowa – Alcide De Gasperi University of Euroregional Economy Poland. / ID SCOPUS ORCID:  https://orcid.org/0000-0002-4905-243X
Statistical Editor – PhD (economic sciences), doctor eng. Daniel Szybowski – The International Institute of Innovation  Science  – Education – Development in Warsaw (Warsaw) Poland /  ID SCOPUS ORCID: https://orcid.org/0000-0001-7537-5788

Academic Committee:

 Dr hab. (social sciences), professor Daniel Boćkowski – University of Bialystok Institute of History and Political Sciences Department of International Security (Bialystok) Poland
Dr hab. (economic sciences), professor Dariusz Reśko – National Louis University of Nowy Sącz (Nowy Sacz) Poland
Dr hab. (economic sciences), professor eng. Marian Malicki – The Jacob of Paradies University in Gorzów Wielkopolski (Gorzow Wielkopolski) Poland
PhD (social sciences), doctor Anna Chabasińska – The Jacob of Paradies University in Gorzów Wielkopolski (Gorzów Wielkopolski) Poland / ID SCOPUS ORCID: https://orcid.org/0000-0001-8980-6737
PhD (social sciences), doctor eng. Krzysztof Tomaszycki – Faculty of Law, University of Bialystok (Bialystok), Poland. Police Headquarters (Warsaw) Poland / ID SCOPUS ORCID: https://orcid.org/0000-0002-2979-0275
PhD (legal sciences), Giovanni Bianco – Professor at Universita Degli Studi di Bari, Italia / ID SCOPUS ORCID:  https://orcid.org/0000-0001-7275-6438
PhD (economic sciences), doctor Constantin Marius Apostoaie , Alexandru Ioan Cuza University of Lasi, Romania
Dr hab.  Cagdas Hakan Aladag – Visiting  Professor at Knowledge/Intelligence Systems Laboratory Department of Mechanical and Industrial Engineering University of Toronto, (Toronto), Canada and Associate Prof.at Operations Research Section Dep.of Statistics, Faculty of Science Hacettepe University, (Ankara) Turkey.
Dr hab. (political science) professor Adriana Mutu – Abat Oliba University (Barcelona) Spain
Dr hab. (legal sciences), professor Jozef Čentéš – Head of the Department of Criminal Law, Criminology and Criminal Sciences at the Faculty of Law, Comenius University (Bratislava) Slovakia
Dr hab. (legal sciences), professor Pavel Nečas – University of Security Management (Kosice) Slovakia
Dr hab. (economic sciences), professor Ramaz Abesadze – Principal Researcher, Director of Paata Gugushvili Institute of Economics of Ivane Javakhishvili Tbilisi State University (Tbilisi) Georgia
Dr hab. (economic sciences), professor Vakhtang Burduli – Principal Researsher, Head of Sector and Regional Economy Department of Paata Gugushvili Institute of Economics of Ivane Javakhishvili Tbilisi State University (Tbilisi) Georgia
Dr hab. (economic sciences),professor Anna Nedyalkova – Varna Free University (Warna) Bulgaria
Dr hab. (legal sciences), professor Pavel Pavlov – Varna Free University (Warna) Bulgaria
Dr hab. (economic sciences), professor Galya Gercheva – Varna Free University (Warna) Bulgaria
Dr hab. professor Oleksii Hliebov – Medicine American University of Integrative Sciences (Sint Maarten) United States
Dr hab. (legal sciences), professor Ella Derkach – Donetsk National University, (Vinnytsia) Ukraine Associate Professor Constitutional, International and Criminal Law / ID SCOPUS ORCID: https://orcid.org/0000-0002-6673-589X
REGULAMINY CZASOPISMA I WYMOGI REDAKCYJNE
dostępne są na stronie czasopisma:  
www.ijoness.com