INTERNATIONAL JOURNAL OF NEW ECONOMICS AND SOCIAL SCIENCES  /  (IJONESS)
Aktualne numery drukowane z ostatnich 3 lat:
No 1(9)2019_IJONESS
No 2(8)2018_IJONESS
No 1(7)2018_IJONESS
No 2(6)2017_IJONESS
No 1(5)2017 IJONESS
Wersja elektroniczna czasopisma:  www.ijoness.com      /     Archiwum:  https://ijoness.com/resources/html/archives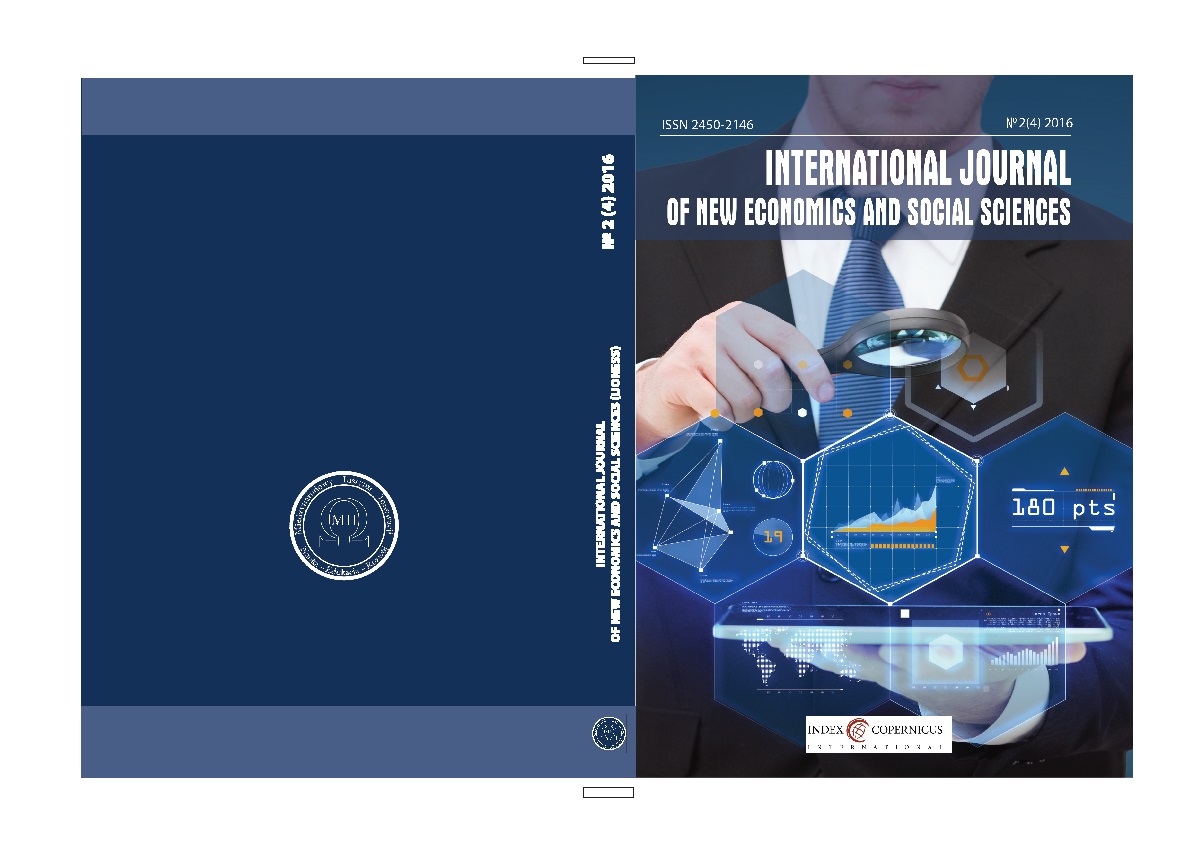 Czasopismo naukowe pt. INTERNATIONAL JOURNAL OF NEW ECONOMICS AND SOCIAL SCIENCES (IJONESS) powstało w 2015 r. ISSN 2450-2146 dla wersji drukowanej
e-ISSN 2451-1064 dla wersji online. IJONESS to międzynarodowe czasopismo naukowe poświęcone naukom społecznym, głównie ekonomii.
Zespół redakcyjny i naukowy składa się z przedstawicieli m.in. takich międzynarodowych jednostek naukowych jak:
1. Jacob of Paradies University in Gorzow Wielkopolski
2. Lazarski University in Warsaw
3. University of Wroclaw
4. University of Bialystok
5. Warsaw University of Life Sciences
6. Cardinal Stefan Wyszynski University in Warsaw
7. Pawel Wlodkowic University College in Plock
8. Universita Degli Studi di Bari (Bari), Italy
9. Abat Oliba University (Barcelona); Complutense University of Madrid (Madrid), Spain
10. Juraj Dobrila University of Pula (Pula) Croatia
11. Paata Gugushvili Institute of Economics of Ivane Javakhishvili Tbilisi State University (Tbilisi), Georgia
12. Free University (Warna), Bulgaria
13. Comenius University (Bratislava); University of Security Management (Kosice), Slovakia
14. Department of Law, Daugavpils University (Daugavpils), Latvia
15. Alexandru Ioan Cuza University of Lasi, Romania
16. University of Toronto (Toronto), Canada
17. Hacettepe University (Ankara), Turkey
18. Medicine American University of Integrative Sciences in Sint Maarten, United States
19. Federal University of Parana (UFPR) – Scholl of Buisness (Parana), Brazil
20. University Privee , University Cadi Ayyad (Marrakech), Morocco
21. Sungkyunkwan University Korean Language Centre, Langcon English Academy (Suwon), South Korea
22. Amity University (Kolkata), India
23. University of Trisakti (Jakarta) Indonesia
24. Lviv Polytechnic National University; Vasyl Stus Donetsk National University, Ukraine
Aktualnie czasopismo IJONESS jest indeksowane w bazach :
ERIH PLUS – European Reference Index for the Humanities and Social Sciences;   ICI Journals Master List;   PBN/POL-Index;   CEEOL;   CEJSH;   ARIANTA;   CEON;  The Norwegian Register for Scientific Journals, Series and Publishers;  WorldCat;   Dimensions;   WZB Berlin Social Science Centre;   Library Hamburg/University Hamburg;   German National Library of Science and Technology;   Universitätsbibliothek Vechta;    Universitätsbibliothek Leipzig;    Institute of Science and Technology Austria;   
Leuphana Universität Lüneburg;   ZB MED – Informationszentrum Lebenswissenschaften;   Universitätsbibliothek Rostock;    
Universitätsbibliothek Braunschweig;   Elektronische Zeitschriftenbibliothek;   Technischen Universität Hamburg;
Freie Universität Berlin;    HafenCity Universität Hamburg;   HAW Hamburg;    The Cooperative Library Network Berlin-Brandenburg (KOBV);
Europa-Universität Viadrina Frankfurt (Oder);    Universitätsbibliothek der LMU München;    Karlsruher Institut für Technologie;
© Copyright by International Institute of Innovation «Science-Education-Development» in Warsaw

IJONESS to czasopismo Open Access

.
Wszystkie opublikowane artykuły są rozpowszechniane na warunkach licencji Creative Commons Uznanie autorstwa – Użycie niekomercyjne – Na tych samych warunkach 4.0 (CC BY-NC 4.0) http://creativecommons.org/licenses/by-nc/4.0/, dzięki czemu osoby trzecie, mogą kopiować i rozpowszechniać materiał na dowolnym nośniku lub w formacie oraz czerpać z materiału – pod warunkiem, że oryginalne dzieło jest prawidłowo cytowane i zachowuje warunki licencji. 

Kontakt:                        kontakt@instytutinnowacji.edu.pl 
Kontakt:                        ijoness.mii@gmail.com
Kontakt:                        +48 600 152 494
Kontakt do Redaktora: sylwiagwozdziewicz@gmail.com
---
AUTORZY MIĘDZYNARODOWI IJONESS № 1(9)2019 : 
Stanley Egenti – Institute of Development Research and Development Policy, Ruhr University Bochum (Bochum, Germany)
Adebayo Abiola Georgina – Department of Business Economics, Wageningen University and Research, (Wageningen, Netherlands)
Maria Gregoria Robles Concepcion – Higher College of Technology, (Abu Dhabi, United Arab Emirates)
Ramaz Abesadze, Vakhtang Burduli – Paata Gugushvili Institute of Economics of Ivane Javakhishvili Tbilisi State University (Tbilisi, Georgia)
Ali-Raza Memon – OKAN University, Mecidiyekoy Campus Istanbul, (Istanbul, Turkey)
Junada Sulillari, Kostandin Nasto – Department of Finance and Accounting, Fan S. Noli University (Korca, Albania)
Janice C. Bone – San Pedro College of Davao, (Davao City, Philippines)
Ariel Epan San Jose – Southern Philippines Agri-business and Marine and Aquatic School of Technology, (Digos City, Philippines)
Ajit Singh – Department of Computer Application Patna Women's College, (Bihar, India)
George Gikama Muthoni – Department of Commerce & Economic Studies, Jomo Kenyatta University of Agriculture and Technology (Juja, Kenya)
Yanjanani Kamba – Department of Agricultural and Applied Economics, Lilongwe University of Agriculture and Natural Resources, Bunda College of Agriculture, (Lilongwe, Malawi)
Oludare Durodola – Institute of Water and Energy Sciences, Pan-African University, (Tlemcen, Algeria)
Muhammad Saqib Khan – International Islamic University Islamabad Facility of Management Sciences (Islamabad, Pakistan)
Hassan Bin Zubair – National University of Modern Languages (Islamabad, Pakistan)
Aqeela Memon, Ain Bemisal – Sindh University Jamshoro, University of Management (Sindh, Pakistan)
Saheed Adekunle Muraina – Faculty of Administration, Department of Accounting, Ahmadu Bello University (Zaria, Nigeria)
Aderemi Timothy Ayomitunde, Olayemi Henry Omotayo – Department of Economics, Olabisi Onabanjo University, (Ago-Iwoye, Nigeria )
Amusa Bolanle Olubunmi – Department of Business Administration and Management, Gateway (ICT) Polytechnic, (Sapaade, Nigeria)
Awomailo Lanke B. – Department of Business Administration and Management, Yaba College of Technology, (Lagos, Nigeria)
Ugo Chuks Okolie Chartered Institute of Personnel Management of Nigeria Edo State Study Centre (Benin City, Nigeria)
Idongesit David Udom – Department of Vocational and Technical Education, University of Benin (Benin City, Nigeria)
Chinedu Nevo, Israel Onwe – Department of Economics, University of Nigeria (Nsukka, Nigeria)
Eseohe Glory Okoedion – Department of Foreign Languages and Literally Studies, University of Nigeria (Nsukka, Nigeria)
Tobechi Faith – Department of Economics and Development Studies, Alex Ekwueme Federal University Ndufu-Alike Ikwo, (Ndufu-Alike, Nigeria)
Aderemi Timothy Ayomitunde – Department of Economics, Olabisi Onabanjo University, (Ago-Iwoye, Nigeria )
Ojelade Lydia Omolola – National Commision for Musiums and Monuments, Osogbo, Department of Economics, Obafemi Awolowo University, (Ile Ife, Nigeria)
Mukhtar Danladi Galadima – Department of Economics & Dev. Studies, Faculty of Arts & Social Sciences, Federal University Dutse (Jigawa State, Nigeria)
Abubakar Wambai Aminu – Department of Economics, Faculty of Social & Management Sciences, Bayero University Kano (Kano State, Nigeria)
Svetlana Danilkova – Department of Accounting, Analysis and Auditing,Polessky State University (Pinsk, Republic of Belarus)
Svetlana Levon – Department of Economic Policy and Governance, National Academy of Public Administration under the President of Ukraine (Kiev, Ukraine)
Nataliia Gavkalova, Alona Zolenko – Department of Public Administration and Regional Economy,Simon Kuznets Kharkov National University of Economics (Kharkiv, Ukraine)
Kristina Babenko – Department of Management, Ukrainian Engineering and Pedagogical Academy (Kharkiv, Ukraine) 
---
ZESPÓŁ REDAKCYJNY:
Editor-in-Chief  –  PhD (legal science), Sylwia Gwoździewicz
The Jacob of Paradies University in Gorzow Wielkopolski (Gorzów Wielkopolski) Poland
ID SCOPUS ORCID: https://orcid.org/0000-0003-3034-2880
Deputy Scientific Editor – Dr hab. (economic science), professor Tomasz Wołowiec
Head of the Department of Finance and Accounting, University of Economy and Innovation in Lublin (Lublin) Poland
ID SCOPUS ORCID: https://orcid.org/0000-0002-7688-4231
Deputy Scientific Editor – PhD (political science, economics science), Martin Dahl
Dean, Faculty of Economics and Management Lazarski University (Warsaw) Poland
ID SCOPUS ORCID: https://orcid.org/0000-0003-1978-7045
Deputy Scientific Editor – PhD (economic sciences), Daniel Szybowski
The International Institute of Innovation  Science  – Education – Development in Warsaw (Warsaw) Poland
ID SCOPUS ORCID: https://orcid.org/0000-0001-7537-5788
Language Editor – MA eng. Wioleta Błazucka – Ji
Sungkyunkwan University Korean Language Centre / Korea; Langcon English Academy (Suwon) South Korea
ID SCOPUS ORCID: https://orcid.org/0000-0002-4584-3226
Language Editor – PhD (social sciences), Kateryna Novikowa
Warsaw University of Life Sciences (Warsaw) Poland
ID SCOPUS ORCID:  https://orcid.org/0000-0002-4905-243X
RADA NAUKOWA:
Dr hab. Cagdas Hakan Aladag
Visiting Professor at Knowledge/Intelligence Systems Laboratory Department of Mechanical and Industrial Engineering University of Toronto (Toronto) Canada 
and Associate Prof.at Operations Research Section Dep.of Statistics, Faculty of Science Hacettepe University, (Ankara) Turkey
ID SCOPUS ORCID: https://orcid.org/0000-0002-3953-7601
Dr hab. (political science) professor Adriana Mutu
Abat Oliba University (Barcelona) Spain
ID SCOPUS ORCID: https://orcid.org/0000-0002-8290-5211
PhD (political science), Marcin Roman Czubała Ostapiuk
Complutense University of Madrid (Madrid) Spain
Dr hab. (economic sciences), professor Ramaz Abesadze
Principal Researcher, Director of Paata Gugushvili Institute of Economics of Ivane Javakhishvili Tbilisi State University (Tbilisi) Georgia
ID SCOPUS ORCID: https://orcid.org/0000-0003-4348-4036
Dr hab. (economic sciences), professor Vakhtang Burduli
Principal Researsher, Head of Sector and Regional Economy Department of Paata Gugushvili Institute of Economics of Ivane Javakhishvili Tbilisi State University (Tbilisi) Georgia
Dr hab. (economic sciences) professor Tulus Tambunan
University of Trisakti (Jakarta) Indonesia 
ID SCOPUS ORCID: https://orcid.org/0000-0003-4526-3042
PhD (economic sciences), Rajib Kumar Sanyal
Amity University (Kolkata) India
ID SCOPUS ORCID: https://orcid.org/0000-0002-4848-6682
PhD (economic sciences), Jalila Bouanani
University Privee (Marrakech), University Cadi Ayyad (Marrakech) Morocco
PhD (operations research), Thiago Guimaraes
Federal University of Parana (UFPR) – Scholl of Buisness (Parana) Brazil
ID SCOPUS ORCID: https://orcid.org/0000-0003-2975-6170
PhD (legal sciences), Giovanni Bianco
Professor at Universita Degli Studi di Bari (Bari) Italy
ID SCOPUS ORCID: https://orcid.org/0000-0001-7275-6438
PhD (economic science), Sanja Blažević Burić
Juraj Dobrila University of Pula (Pula) Croatia
ID SCOPUS ORCID: https://orcid.org/0000-0002-5919-5477
Dr hab. (legal sciences), professor Janis S. Teivans-Treinovskis
Department of Law, Daugavpils University (Daugavpils) Latvia
ID SCOPUS ORCID: https://orcid.org/0000-0002-1440-2153
Dr hab. (legal sciences), professor Jozef Čentéš
Head of the Department of Criminal Law, Criminology and Criminal Sciences at the Faculty of Law, Comenius University (Bratislava) Slovakia
Dr hab. (legal sciences), professor Pavel Nečas
University of Security Management (Kosice) Slovakia
ID SCOPUS ORCID: https://orcid.org/0000-0001-7743-0453
PhD (economic sciences), Constantin Marius Apostoaie
Alexandru Ioan Cuza University of Lasi (Lasi) Romania
ID SCOPUS ORCID: https://orcid.org/0000-0002-3032-5426
Dr hab. (economic sciences), professor Anna Nedyalkova
Varna Free University (Warna) Bulgaria
Dr hab. (legal sciences), professor Pavel Pavlov
Varna Free University (Warna) Bulgaria
Dr hab. professor Oleksii Hliebov
Medicine American University of Integrative Sciences (Sint Maarten) United States of America
Dr hab. (legal sciences), professor Ella Derkach
Associate Professor Constitutional, International and Criminal Law, Donetsk National University (Vinnytsia) Ukraine
ID SCOPUS ORCID: https://orcid.org/0000-0002-6673-589X
Subject Editor – Dr hab. (economic sciences), professor Pavlo Ilchuk
Head of Technology Management Department of Lviv Polytechnic National University (Lviv) Ukraine
ID SCOPUS ORCID: https://orcid.org/0000-0003-4636-2309
Dr hab. (social sciences), professor Daniel Boćkowski
University of Bialystok Institute of History and Political Sciences Department of International Security (Bialystok) Poland
ID SCOPUS ORCID: https://orcid.org/0000-0002-0444-6849
Dr hab. (economic sciences), professor Dariusz Reśko
National Louis University of Nowy Sącz (Nowy Sacz) Poland
ID SCOPUS ORCID: https://orcid.org/0000-0003-4129-0502
Dr hab.  (social sciences), professor Remigiusz Wiśniewski
Pawel Wlodkowic University College in Plock (Plock) Poland
ID SCOPUS ORCID: https://orcid.org/0000-0002-6920-3602
Dr hab., Associate Professor (social science), Ryszard Kozłowski
Pomeranian University (Slupsk) Poland
ID SCOPUS ORCID: https://orcid.org/0000-0001-6789-3438
Dr hab., Professor (social science), Jan Maciejewski
University of Wroclaw (Wroclaw) Poland
ID SCOPUS ORCID: https://orcid.org/0000-0002-0743-099X
Subject Editor – PhD (legal sciences), Wacław Brzęk
Institute of Social Sciences, University of Entrepreneurship in Warsaw (Warsaw) Poland
ID SCOPUS ORCID: https://orcid.org/0000-0002-8655-8958
Subject Editor – PhD (economic sciences), Dariusz Prokopowicz
Institute of Sociology, Faculty of History and Social Sciences, Cardinal Stefan Wyszynski University in Warsaw (Warsaw) Poland
ID SCOPUS ORCID: https://orcid.org/0000-0001-6383-916X
Subject Editor –  PhD (social sciences), Marcin Mielnik
Polish Society for the History of Technology (Warsaw) Poland
ID SCOPUS ORCID: https://orcid.org/0000-0002-4245-986X
PhD (social sciences), Anna Chabasińska
The Jacob of Paradies University in Gorzów Wielkopolski (Gorzów Wielkopolski) Poland 
ID SCOPUS ORCID: https://orcid.org/0000-0001-8980-6737
PhD (social sciences), Krzysztof Tomaszycki
Faculty of Law, University of Bialystok (Bialystok), Police Headquarters (Warsaw) Poland
ID SCOPUS ORCID: https://orcid.org/0000-0002-2979-0275
REGULAMINY CZASOPISMA I WYMOGI REDAKCYJNE
dostępne są na stronie czasopisma:  
www.ijoness.com